Are you ready for a New Year's Eve like no other? Join us in Dubai for an unforgettable experience. From the iconic Burj Khalifa to the glitz and glamour of one of the world's most luxurious cities, you won't want to miss what 2023 has in store. Read on for our top tips for celebrating New Year's Eve in Dubai!
Plan Ahead and Make Reservations
As New Year's Eve 2023 approaches, make sure to plan ahead and make reservations early. Dubai is sure to be bustling with activity, and there are many exciting events to attend. For the best experience, make sure to book your tickets and make your reservations early.
From luxurious dinners at Atlantis The Palm, to disco till dawn at Dubai Opera, to the biggest night clubs and parties, there are plenty of ways to enjoy New Year's Eve in Dubai 2023. You can also get ready for the parade of lights along the palm tree-lined coastline, or enjoy a yacht party while you watch the fireworks show at Jumeirah Beach Park.
Be sure to check out what's happening at The Pointe, with its diverse selection of restaurants and shops. With so much to do and so many places to go, you're sure to have a memorable time in Dubai this New Year's Eve.
Decide on an Outfit
The countdown to New Year's Eve Dubai 2023 has begun and you know what that means - time to find the perfect outfit for your celebration! Whether you're looking for something glamorous, chic, or casual, the city of Dubai has something for everyone. From traditional abayas, to sequinned dresses, or even a dapper suit, the options are endless. Make sure to plan ahead and pick an outfit that will make you feel confident and ready to party. To make your shopping experience even more enjoyable, you can take advantage of the discounts and deals available at some of the city's biggest shopping malls.
Look for Activities at Burj Khalifa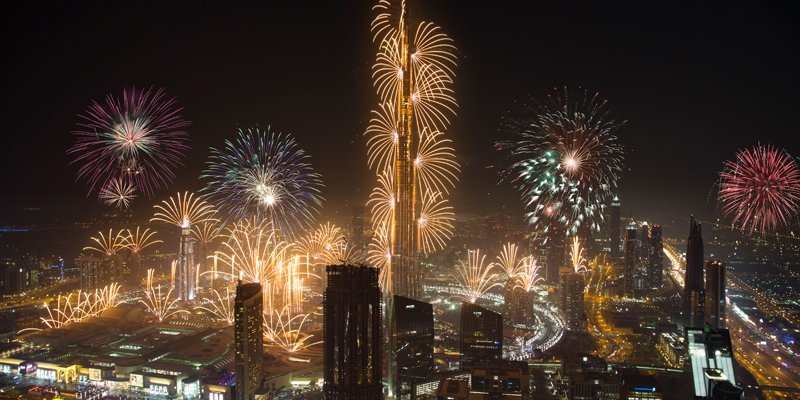 For a truly unforgettable New Year's Eve experience, look no further than the Burj Khalifa. With its world-famous observation deck and its unique mix of activities, it's an absolute must-visit on December 31st. Take in the breathtaking views of the city from the tallest building in the world, or enjoy an array of attractions such as the Dubai Fountain Show, a thrilling light and sound show, or the At The Top Sky Lounge. If you're feeling extra adventurous, you can even book a guided tour of the tower and learn about its many secrets.
Participate in the Parade of Lights
Welcome in the new year with the Parade of Lights, a grand and colorful spectacle that takes place along Dubai's iconic Sheikh Zayed Road. The parade features dozens of floats, marching bands, and performers. During the parade, you can experience the beautiful lighting displays and enjoy the vibrant energy of the crowd. You will be able to take in the unique atmosphere and join in the celebration of a brand new year. Be sure to get there early to make sure you have a spot to witness this amazing event.
Visit Dubai Festival City Waterfront Promenade
Experience one of the best New Year's Eve fireworks displays in Dubai at the Dubai Festival City Waterfront Promenade. The promenade is composed of a variety of restaurants and cafés, as well as shopping centers. Spend your evening strolling around the waterfront and taking in the breathtaking views of Dubai's skyline. At midnight, a magnificent firework show will light up the sky to welcome the new year. Make sure to book your tickets early, as they tend to sell out fast.
Check out the Fireworks Show at Jumeirah Beach Park
If you're looking for an unforgettable way to ring in the New Year, then Jumeirah Beach Park is the place to be! This park is one of the most popular spots to watch the fireworks show during New Year's Eve in Dubai. The perfect way to end a night of celebration, the colorful display of fireworks will light up the night sky as you welcome in 2023 with your loved ones. This extravaganza can be seen by everyone in Dubai, and you'll have a great view of the show from the beach park. So make sure to head out early and grab the best spot to enjoy this stunning event!
Explore What's Happening at The Pointe
The Pointe at Palm Jumeirah is the perfect destination for New Year's Eve 2023. With stunning views of the skyline, you can watch the fireworks show from different angles. It's also a great spot for street entertainment, with live music and street performances taking place throughout the night. There are plenty of restaurants, bars, and cafes in The Pointe too, so you can dine in style and enjoy a delicious meal before the celebrations begin. And for those looking for some dance moves, The Pointe is home to some of the best nightclubs in Dubai, so you can dance until the clock strikes twelve.
Get Ready for the Biggest Night Clubs and Parties
If you're looking for the ultimate night out to celebrate the start of a new year, there's no better place than Dubai. The city has some of the biggest and best clubs and parties in the world, and with the right preparation, you can ensure that your New Year's Eve in Dubai is an unforgettable experience.
From celebrity DJs spinning the decks to exclusive VIP experiences, there are plenty of ways to enjoy the party atmosphere in Dubai on New Year's Eve. Emaar NYE 2023 will host a spectacular event at Dubai Mall featuring some of the world's top DJs, while ATLANTIS THE PALM NEW YEARS EVE 2023 will boast an incredible disco-themed celebration at Dubai Opera.
Visitors can also check out what's happening at Topgolf's Disco themed New Years Eve party, or join in the revelry at Dubai Festival City Waterfront Promenade for a Parade of Lights. For those looking for a more extravagant experience, why not book a luxury yacht party or splurge on a three-night stay in the Dubai Suite?
No matter how you decide to celebrate, this New Year's Eve promises to be an unforgettable experience in Dubai. Make sure to plan ahead and book your tickets early to ensure you don't miss out!
Enjoy a Luxury Yacht Party

Dubai is known for its luxurious lifestyle and what better way to experience it than to enjoy a luxury yacht party in this amazing city? On New Year's Eve 2023, several luxury yacht companies will be offering packages that include champagne, delicious food and drinks, and an exclusive view of the fireworks. Whether it's a romantic evening with your special someone or a fun night out with friends, spending New Year's Eve on a luxury yacht will surely be a night to remember. Make sure to book your yacht reservation early as spots fill up quickly during this time of year.
Conclusion
Dubai is an incredible city to celebrate the New Year and regardless of how you choose to spend your night, you're sure to have an unforgettable experience. Whether you plan on attending one of the many events or just exploring the city, make sure to book early and plan ahead to ensure you don't miss out on any of the fun!